Biden: 'I've never seen anything like the unrelenting assault on the r…
3.43pm EST15:43
Senate minority leader Mitch McConnell has said the House select committee investigating the Capitol insurrection is seeking facts that "the public needs to know".
Speaking to Spectrum News yesterday, the Republican leader said of the select committee, "I think the fact-finding is interesting. We're all going to be watching it."
Julia Benbrook (@JuliaBenbrook)
On the Jan. 6 commission – @LeaderMcConnell said he's watching the investigation as it occurs over in the House. "It was a horrendous event and I think what they are seeking to find out is something the public needs to know." pic.twitter.com/Bf63sVHS5o
McConnell did not offer any review of the committee's performance so far, but he acknowledged the importance of the investigators' work.
"It was a horrendous event, and I think what they're seeking to find out is something the public needs to know," McConnell said.
The Kentucky senator made similar comments earlier this week, telling reporters on Capitol Hill, "We're all watching, as you are, what is unfolding on the House side, and it will be interesting to show all the participants who were involved."
It should be noted that Senate Republicans confined the creation of a 9/11-style commission to study the insurrection earlier this year.
Updated at 3.47pm EST
3.24pm EST15:24
Caroline Wren, one of the organizers of the January 6 rally that culminated in the attack on the Capitol, also met today with the House select committee investigating the insurrection.
Wren did not respond to questions when a CBS News reporter approached her earlier today:
Ellis Kim (@elliskkim)
Caroline Wren is meeting with the Jan. 6 select committee today. A top Trump fundraiser, she was listed as a VIP Advisor in a permit for the rally at the Ellipse.
She did not respond to questions when I approached her earlier; her lawyer John Rowley told me they had no comment. pic.twitter.com/03ySH4tigh
Wren was a top fundraiser for Donald Trump's campaign, and she was listed on the permit paperwork for the January 6 rally as a "VIP adviser".
The select committee issued subpoenas to Wren and other organizers of the rally in late September.
3.05pm EST15:05
Meanwhile, Brandon Straka, who spoke at a "Stop the Steal" rally the day before the Capitol insurrection, appears to have provided the government with information that may impact his sentencing after he pleaded guilty to disorderly conduct during the riot.
Politico reports:
It's an indication that Straka, one of the few Jan. 6 defendants who is also of interest to congressional investigators, has cooperated with prosecutors in a substantive way.
Straka, who describes himself as a 'former liberal,' became a comparatively noticeable figure in Trump-world in 2018, when he established the 'WalkAway campaign' to encourage liberals to abandon Democrats. He was one of just two speakers at pro-Trump events on Jan. 5 and 6 criminally charged for their roles in the Capitol attack. Owen Shroyer, an InfoWars broadcaster and ally of Alex Jones, also faces misdemeanor charges in the case.
Straka pleaded guilty in October to a single misdemeanor charge and was set to be sentenced next week. But prosecutors have asked for a 30-day sentencing delay so that his new evidence 'can be properly evaluated.'
The House select committee investigating the Capitol insurrection has also asked the National Archives to provide all Trump White House documents related to Straka.
2.45pm EST14:45
Stone proves he invoked Fifth Amendment rights with Capitol attack committee
Roger Stone confirmed that he did invoke his Fifth Amendment rights against self-incrimination this morning, when he appeared for a deposition before the House select committee investigating the Capitol insurrection.
"This morning, in fulfillment of a federal subpoena, I did my civil duty, and I responded as required by law," the Trump ally and political operative told reporters on Capitol Hill.
"I did invoke my Fifth Amendment rights to every question — not because I have done anything wrong, but because I am fully aware of the House Democrats' long history of fabricating perjury charges."
Stone challenged the legitimacy of the inquiry, attacking the investigation as "witch hunt 3.0".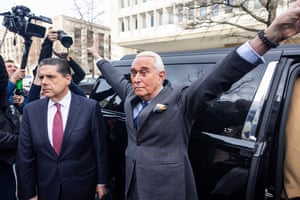 Roger Stone pleads fifth before January 6th Committee. Photograph: Jim Lo Scalzo/EPA
"I stress in addition again that I was not on the Ellipse. I did not march to the Capitol," Stone said. "I was not at the Capitol and any claim, assertion or already implication that I knew about or was involved in any way whatsoever with the illegal and politically counterproductive activities of January 6, is categorically false."
According to the statement the committee issued when it subpoenaed Stone, investigators are interested in his movements on January 5 and allegations that he used members of the far-right group Oath Keepers as personal security guards while he was in Washington.
Stone claimed his actions on January 5 amounted to "constitutionally protected free speech" and were consequently not a authentic method of inquiry for the committee.
2.21pm EST14:21
Capitol insurrectionist receives five-year prison sentence
One of the participants in the January 6 insurrection at the US Capitol has been sentenced to more than five years in prison for attacking police officers during the riot.
The AP reports:
Robert Palmer, 54, of Largo, Florida, wept as he told U.S. District estimate Tanya Chutkan that he recently watched a video of his actions that day and could not believe what he was seeing.
'Your honor. I'm really really ashamed of what I did,' he said weeping.
Palmer was one of a few rioters sentenced on Friday in District of Columbia court for their actions on Jan. 6 when the angry mob descended after a rally by then-President Donald Trump to disrupt the certification of Joe Biden's victory. Scores of police were beaten and blooded, five people died and there was about $1.5 million in damage done to the U.S. Capitol. Palmer is the 65th defendant to be sentenced overall. More than 700 people have been charged.
Palmer's punishment represents the longest prison sentence given to a Capitol rioter so far. That unwanted record was before held by Jacob Chansley of Arizona and Scott Fairlamb of New Jersey, both of whom received 41 months in prison.
2.01pm EST14:01

Joanna Walters
Leading progressive Democrat Pramila Jayapal is voicing the frustration felt by many as the year looks set to end with a legislative whimper not a bang for Joe Biden and his administration.
The Washington state congresswoman just tweeted:
Rep. Pramila Jayapal (@RepJayapal)
The House did our job and passed the Build Back Better Act nearly a month ago.
There's no excuse for the Senate to go on holiday vacation without getting this done for people across America.
Liberals tweeted their sustain, including this cartoon of the bill metaphorically bearing down on Joe Manchin and Kyrsten Sinema on a bicycle made for two (centrist Democrats), who consequently with the shakiest of platforms, keep up it under control:
(Italian) Bamboo cryptologist (@TinResistAgain)
Updated at 2.03pm EST
1.49pm EST13:49
New data examination has revealed that if US Democratic voters were to make up their own country, it would have one of the world's most vaccinated populations, with over 91% of adults having received at the minimum one shot.
Meanwhile, only approximately 60% of Republican adults have received their first shot, according to data research by the New York Times.
And the gap in Covid's death toll between blue and red states that voted mostly Republican this fall widened more quickly than at any past point of the pandemic.
A total of 25 out of every 100,000 residents in counties that voted for Donald Trump died of Covid in October, compared to the 7.8 per 100,000 in counties that voted heavily for Biden, according to the data examination from the Times.
October marked the fifth consecutive month that the percentage gap of death rates in red and blue counties widened.
Charles Gaba, an independent health care analyst, said that in October, the "reddest" tenth of the US saw death rates from coronavirus six times higher than the "bluest" tenth.
"Those numbers have dropped slightly in recent weeks," he told National Public Radio. "It's back down to 5.5 times higher."
Counties where Trump received over 70% of the vote experienced an already higher average of Covid-19 deaths compared to counties where Trump won at the minimum 60 percent, the new data research revealed.
On the contrary, Covid-19 deaths in heavily Biden counties and swing counties did not rise over the past two months, despite the nationwide surge in situations.
Updated at 2.01pm EST
1.23pm EST13:23

Joanna Walters
The US Postal Service (USPS) and NAACP have reached a settlement in a lawsuit over election mail.
USPS agreed for the 2022 mid-term congressional election to take the same extraordinary measures used to deliver ballots in the November 2020 election, Reuters writes.
The agency further reports:
The Postal Service also agreed for elections by 2028 to post guidance documents publicly reflecting its "good faith efforts to prioritize monitoring and timely delivery of Election Mail.
The NAACP president, Derrick Johnson said in a statement, "With the NAACP's ability to now monitor the performance of the USPS during national elections, we will ensure that the right to vote is protected for of all citizens, including those often suppressed."
Johnson also reiterated the need to pass national voting rights legislation, saying, "While this is an unheard of victory, we are now laser-focused on passing federal voting rights protections by the Senate."
Updated at 2.08pm EST
1.00pm EST13:00
Today so far
Here's where the day stands so far:
Joe Biden once again underscored the urgent need to pass national voting rights legislation, which has stalled in the Senate due to Republican filibustering. "This battle is not over," Biden said at South Carolina State University's commencement ceremony this morning. "We're going to keep up the fight until we get it done, and you're going to keep up the fight, and we need your help badly."
Omicron is expected to soon become the principal strain of coronavirus in the US, the director of the Centers for Disease Control and Prevention said. "Although Delta continues to circulate widely in the United States, Omicron is increasing rapidly, and we expect it to become the principal strain in the United States, as it has in other countries, in the coming weeks," Dr Rochelle Walensky said at a press briefing today.
Roger Stone appeared on Capitol Hill for his deposition with the House select committee investigating the January 6 insurrection. Stone's lawyer had before indicated that his client would invoke his Fifth Amendment rights against self-incrimination to avoid complying with the committee's subpoena, which was issued last month.
The blog will have more coming up, so stay tuned.
12.43pm EST12:43
Major US companies are now pulling back on plans to return to in-person work in light of the Omicron variant's rapid spread across America.
Employers planning to call far away workers back into the office in the new year are now pausing those efforts, and they are cautious of setting new return dates only to push them back once again in the confront of continued uncertainty and risks from the pandemic.
The pandemic is also driving changes in how in-person employees work, with a renewed push for strikes and unionization across several industries where workers have frequently faced long hours and unsafe conditions.
Alphabet's Google, Meta, Apple, Uber, Lyft, Ford, DoorDash, DocuSign and Fidelity are among the companies that have delayed returns to the office.
"It's warranted, given the uptick that we've seen in situations," Bradford Bell, director of the Center for progressive Human Resource Studies at Cornell University's ILR School, said. The delays also depend on where the offices are located, he said. "They're very much looking at this on a location-by-location basis."
12.24pm EST12:24
The White House pandemic response team coordinator, Jeff Zients, reassured vaccinated Americans that, if they contract Omicron, their case will "likely be asymptomatic or mild".
"We are intent on not letting Omicron disrupt work and school for the vaccinated. You've done the right thing, and we will get by this," Zients said.
But the White House official issued a dire warning to unvaccinated Americans, saying Omicron poses a serious risk to them and their communities.
"For the unvaccinated, you're looking at a winter of harsh illness and death for yourselves, your families and the hospitals you may soon overwhelm," Zients said.
"Our message to every American is clear: there is action you can take to protect yourself and your family. use a disguise in public indoor settings, get vaccinated, get your kids vaccinated and get a booster shot when you're eligible."
Joe Biden issued a similar warning yesterday, saying the unvaccinated confront "a winter of harsh illness and death".
12.04pm EST12:04
Omicron expected to become principal variant in US, Walensky says
The White House pandemic response team held a briefing this morning to provide an update on the spread of the Omicron variant of coronavirus in the US.
Dr Rochelle Walensky, the director of the Centers for Disease Control and Prevention, said at the minimum 39 states and more than 75 countries have now reported confirmed situations of the Omicron variant.
CSPAN (@cspan)
.@CDCDirector Dr. Rochelle Walensky: "Omicron is increasing rapidly, and we expect it to become the principal strain in the United States, as it has in other countries, in the coming weeks."
Watch: https://t.co/C54s2JZqzH pic.twitter.com/iIIFgZ9viD
"Although Delta continues to circulate widely in the United States, Omicron is increasing rapidly, and we expect it to become the principal strain in the United States, as it has in other countries, in the coming weeks," Walensky said.
The CDC director noted that the agency is seeing situations of Omicron among people who are both vaccinated and boosted.
But Walensky additional, "We believe these situations are milder or asymptomatic because of vaccine protection."
Updated at 12.51pm EST
Click: See details