Ashes 2021-22: Australia v England second Test, day two – live! | Spor…
05:41
8th over: England 16-2 (Malan 1, Root 4) It was raining just now, but the umpires kept the players on after conferring. The Aussies won't mind that: they're so confident that they have two rookies bowling at the same time, and they're nevertheless walking all over England. Root drives for a single, which ruins Richardson's figures. He now has 4-3-1-0.
And here's Harry Lang. "Assuming the Burns dismissal is the start of in addition another abject capitulation by England," he muses, "will this be the bottom of the bell curve in this cycle of English Test cricket? I'm just trying to work out whether I'll see some sort of competition when I finally get to see an Ashes match live in retirement (circa twenty years from now – although likely longer). If the cycle is five or already ten years (so on the way up for five, then rollercoastering down in a progressive agony of self-doubt and nervy prodding for the next five) then I should be in luck. But if it's a twenty-year ordern, I fear I may miss the boat. Thanks for keeping spirits up while the ship sinks!" Thank you for putting my job in a nutshell. When it comes to the cycle, who knows – but England could well regain the Ashes in 2023, with Jofra Archer, Ollie Robinson and Saqib Mahmood reducing the Aussies to rubble.
Updated

05:36
7th over: England 15-2 (Malan 1, Root 3) So both openers have gone and Joe Root, after being at the helm for 150 overs, is back out there half an hour later. He closest edges Neser, which is understandable, but his hands are soft enough to make sure the ball drops short of the cordon. Then he plays a more purposeful shot in the same direction, a glide for three. His ability to be himself when up against it is quite something.
05:32
Wicket!! Hameed c Starc b Neser 6 (England 12-2)
Hasss!! Noooooo! Hameed chips to mid-on and gives Michael Neser a great big Christmas present in his first over as a Test bowler.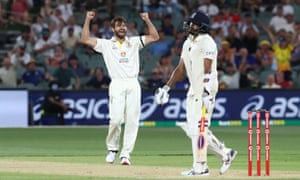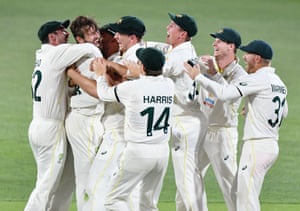 Updated

05:28
6th over: England 12-1 (Hameed 6, Malan 1) A third maiden from Richardson, but that won't bother Malan, who gets by the over without being beaten outside off.
05:25
5th over: England 12-1 (Hameed 6, Malan 1) Starc hasn't got it right in addition to Hameed, who has some comfy leaves before being lured into another excursion, which he mistimes.
"So many of us so negative on this," mutters AB Parker. "Easy draw with a Root double coming up. I'll tattoo whoever takes the most wickets on my confront if we don't. Seriously, easy enough pitch and England showed they can put up 350 easily last game." Great stuff, but, at the risk of taking things too literally, I thought they made 147 and 297?
05:20
4th over: England 12-1 (Hameed 6, Malan 1) After beating Hameed for fun in his first over, Richardson now faces a left-hander for the first time today – and beats him too, though Malan gets some credit too, for staying on the line of off stump. Richardson, who scored three runs per ball in his short innings, hasn't conceded one in addition.
05:15
3rd over: England 12-1 (Hameed 6, Malan 1) Here comes Dawid Malan, who could be jelly on the inside, but he puts on a brave confront and pushes his first ball for a quick single to cover. Hameed follows up with another stylish square excursion that doesn't quite reach the rope. He's getting 'em in threes.
Updated

05:11
Wicket!! Burns c Smith b Starc 4 (England 7-1)
Starc gets Burns again! With a good ball – lifting, leaving him, drawing the edge and presenting Smith at second slip with a simple catch, which, not being English, he doesn't drop. This could be the start of a procession.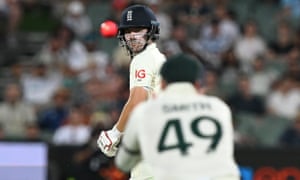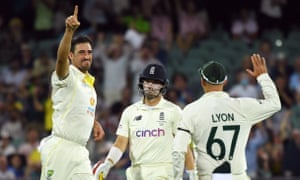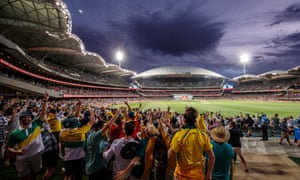 Updated

05:09
2nd over: England 7-0 (Hameed 3, Burns 4) The new ball is shared by Jhye Richardson, as the more senior of the two stand-in seamers – he's a vetreran of two Tests. Fortified by his three-ball innings of 9, he finds some swing and beats Hameed, not once, not twice, but three times.
"That last half hour was like something out of the mid-90s," says Guy Hornsby on Twitter. "Not only have we let Australia take the game away from us, but we've given their two new speed bowlers a shot of adrenaline. I hope our batters have put abject defeat out of their minds. I haven't."
05:05
1st over: England 7-0 (Hameed 3, Burns 4) Mitch Starc lays down his bat and picks up the new ball, which is so pink it should really be served as a drink at a children's party. Haseeb Hameed leaves one that's a little too close to the off bail, but then plays a lovely calm excursion, by the covers for three. So… can Rory Burns survive one ball? He can! It's straight and swinging away, but on middle instead of leg, and he gets some bat on it, rather uncertainly. Next ball, much the same but pitched up, he clips for four. That's more like it.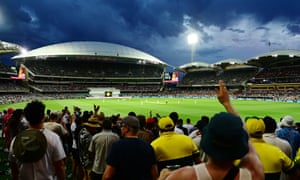 Updated

04:59
An intriguing email comes in from an associate professor in international strategy. "England's dodgy fielding is historic," says Jon Fanning of York university, "and caused by an excessively competitive schools culture which values winning above all already when the win is brought about by size and strength not skill. The consequence is that good batters bat, good bowlers bowl, and only the fat lads do much fielding, for which there in no training. at the minimum the bowlers do field sometimes. It looks like the schools have changed now, but it won't show for a few years. I use it in my teaching as a comparative study in proper planning. Indian fielding vs English." Discuss!
04:55
England ripped up their strategy, the bowlers did a lot right, and nevertheless Australia made 473. Just like in Brisbane, most of the runs were made by only three batters – Warner and Labuschagne again, with Smith replacing Head as the third man. But this time the Aussie tail wagged, merrily, to make sure that England go in to bat feeling embarrassed in addition as depleted. Their chance of winning, at CricViz, is rated at 2pc. That high?
04:50
Australia declare! On 473-9 (Starc 39, Richardson c Buttler b Woakes 9)
Jhye Richardson doesn't hang about: he goes three, six, out – caught behind off Woakes. And Steve Smith calls them in, so Starc is left high and dry.
04:47
150th over: Australia 461-8 (Starc 38, Richardson 0) The wicket doesn't stop Starc in his tracks, rather the opposite. He cuts for four, plays a forehand excursion for four more (almost killing the umpire), and top-edges just out of Buttler's reach for in addition another four. So he has that quick 30, and the last four overs have gone for 46.
04:41
Wicket! Neser c general b Stokes 35 (Australia 448-8)
Neser's luck runs out as his lofted excursion goes straight to general at thorough mid-off. But what an impressive debut: 35 off just 24 balls, which will put some additional wind in his sails when he comes on to bowl.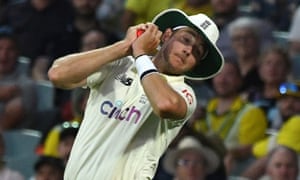 Updated

04:40
149th over: Australia 448-7 (Starc 24, Neser 35) Woakes is slapped for four by Starc, by the covers. He responds with a loopy slower ball, so far outside off that it's a wide. The crowd make the indisputable sound that figures in so many English nightmares: the sheer derision of thousands of gloating Aussies. Woakes recovers to beat Starc twice outside off. And then Starc is dropped in the thorough by Ollie Pope – a good effort, to be fair – running in and just getting his fingers to a slog-sweep.
04:36
148th over: Australia 440-7 (Starc 18, Neser 34) Neser tries to give Stokes the treatment and succeeds in a way, with a thick inside edge for four. A better shot, a jab to thorough square, brings a single and the fifty partnership. Salt in England's wounds. And the last two batters are padded up, so Smith is not about to declare.
04:30
147th over: Australia 433-7 (Starc 17, Neser 28) Root makes in addition another bowling change, replacing Anderson with Woakes – talk about like for like. Neser top-edges for four over the slips. Woakes, looking rattled for once in his life, asks for a review, for caught behind, when Buttler isn't interested. No evidence of a nick, so England are out of reviews. Neser celebrates by slogging for four and cutting for six! Rabble time again.
"I don't know why we're being so gloomy about England's current difficult situation," says Grumpy Expat Dad on Twitter. "Didn't Adelaide once great number an Ashes Test where a team lost after making 550 in the first innings?" Ha.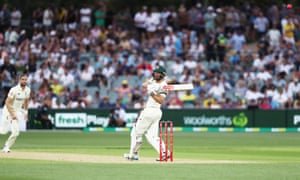 Updated

04:23
146th over: Australia 417-7 (Starc 16, Neser 13) Root brings back Stokes, who pitches the ball up, thankfully, and concedes only three singles. Up on the roof, a bunch of tourists are enjoying the view – or perhaps not enjoying it, as there are forks of lightning behind them. In the words of the great Gilbert O'Sullivan, get down!
04:20
145th over: Australia 414-7 (Starc 14, Neser 12) Starc sees those two short mid-ons and simply chips over them for two runs. This partnership is 24 already.
"Thanks to you and the rest of the OBO team," says Stephen Schoofs, "for making our gradual descent back into Covid misery just a tad more bearable." Our pleasure. "Having said that, what's the best that the England team can hope for, considering a very likely first session under lights, a less than confident batting line up, a world class spinner on a pitch that offers turn, and a comfortable drop in temperature for Australia's bowlers to look forward to? Batting for a draw or an honourable defeat at best?" There's always hope, already for England. In this case the best they can hope for is to make 550, roll over Australia for 150, knock off the 50 required for victory and say to the world "You see, five seamers can work!"
04:15
144th over: Australia 411-7 (Starc 11, Neser 12) Starc fancies a quick 30 here. He edges a pull but gets away with it as it plops into space at backward point. Neser shows him how it's done with a proper pull, smacked to the midwicket border.
04:09
143rd over: Australia 403-7 (Starc 8, Neser 7) Neser, facing Anderson, picks up two more with another controlled nick. Is it too soon to call this his trademark?
Updated

04:05
142nd over: Australia 395-7 (Starc 7, Neser 4) After only two overs, Robinson is taken off and replaced by general, perhaps because Starc is a left-hander. And Starc is missed! By Anderson at midwicket, just too slow to get his hands on a well-timed chip. general pulls that confront again. Neser adds insult to insult by edging for four.
Updated

04:01
141st over: Australia 390-7 (Starc 3, Neser 0) Here's Michael Neser walking out for the first time in a Test match, after a 20-minute tea interval to stew in, but if he's nervous, he's not going to show it. He sees out the last two balls of Anderson's over and plays a nice wristy clip to square leg.
Updated

03:58
"Morning Tim (from where I'm writing)," says David Hindle. "Surely the fact that Ben Stokes gets people out when finally bowling straight and pitching it up, and the fact that the Australian bowlers are a) all very good, b) will bowl at the stumps and pitch it up the
whole time, method this is done and dusted? This will be a monster walloping by an innings, because the Australians have brains and use
them, whilst England – oh dear. And quite a few England batsmen seem to have a terrible technical weakness. They play every line possible except that of a straight ball aimed at their stumps? Okay, the worst offender,
Bairstow is gone, but Pope and Buttler (at the minimum) are well capable of the same. It will not be pretty." You may well be right! But there are two glimmers of hope for England: half of Australia's bowlers in this match are beginners, albeit talented ones. And the slow scoring so far has opened the door to the draw. On WinViz, it's a 33pc chance. England, true to form, are on 4pc.
03:48
"Becoming a rabble?" snorts Nicholas Butt (137th over). "Ingerlund has always been a rabble!" I take it you're too young to remember 2010-11.
03:44
Tea: Australia nevertheless on top
And off they go for tea. That was a shame for Carey, who had just reached a fine first Test fifty and bathed in the acclaim of his home crowd, but, like Smith's downfall, it may not do Australia any harm. Out of nowhere, Anderson has his favourite thing: tidy figures – two for 51 off 26.4 overs of dogged rust removal. The session nevertheless belongs to the Aussies, and so do the Ashes. "It's almost irrelevant," says Alastair Cook, "what Australia get now." He knows whereof he speaks.
03:39
Wicket! Carey c Hameed b Anderson 51 (Australia 390-7)
One brings two for Anderson! This may be a slower ball, as Carey plays too early and chips to cover, where Haseeb Hameed dives to his right and takes the catch as if he was playing for a team that had no trouble with their fielding.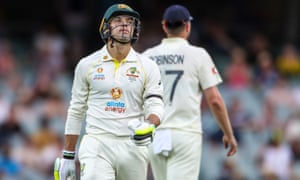 Updated

03:33
139th over: Australia 385-6 (Carey 49) Smith stomps off looking furious and chucks his helmet down on the grass beyond the Toblerone. When he cools down, he may mirror that a clatter of wickets now could help him win the match, by making England bat under lights. The partnership, like Smith, just missed out on a hundred (91). A modest round of applause please for poor old Root, who made a double change, yielding a welcome maiden at one end and a much-needed wicket at the other.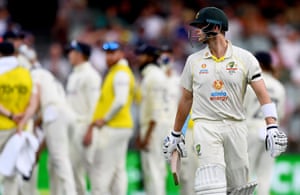 Updated

03:29
WICKET! Smith lbw b Anderson 93 (Australia 385-6)
Jimmy Jimmy! The oldest swinger in town gets one to move in and keep low. Up goes the finger, Smith reviews but it's plumb. And that's another 90 for Australia's collection.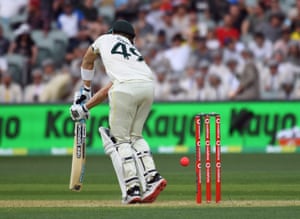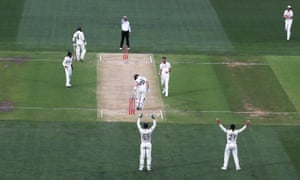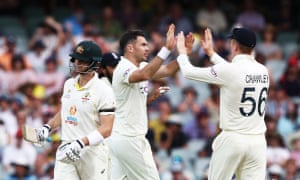 Updated

03:24
138th over: Australia 383-5 (Smith 92, Carey 48) general is replaced by Ollie Robinson, his natural heir. He keeps Carey quiet by jagging the ball back into him and completes a maiden, which is a tiny win in the circumstances. "Never seen so many balls hit the back elbow in a Test," says one of the commentators. That doesn't fill you with confidence for England's innings, when the bowling will be a lot faster.
03:19
137th over: Australia 383-5 (Smith 92, Carey 48) Smith finds the right riposte to Stokes's bouncers: an upper-cut for four. England, after rallying this morning, are becoming a rabble again.
Updated

03:15
136th over: Australia 376-5 (Smith 87, Carey 46) Thanks Mike. This is Tim, clocking on after a slight mix-up – well, what else do you expect from an Englishman? On the field, Stuart general's over begins with a FIVE as Smith takes a single and Rory Burns's wayward shy at the stumps goes for four overthrows. Alex Carey follows up with a lordly four, whipped over square leg. general's confront, in his 150th Test, is less than celebratory.
Updated

03:08
135th over: Australia 366-5 (Smith 82, Carey 41) Just a single of Stokes's next over as Smith's off his legs again, to move onto 82. Carey remains on 41 as an off-excursion and then a late cut are both straight to England men. And with that, my cameo is over, and the great Tim de Lisle will take over from here. Fun while it lasted.
Updated

03:04
134th over: Australia 365-5 (Smith 81, Carey 41) "Oh my information," says Steve Smith as general's opening ball jags away from him. Not a hint of understatement from the Australian captain's lips there. Nothing much else to report until the final ball of the over, when Smith tickles one off his legs, and it's nearly snaffled at leg slip. This partnership is now worth 71.
02:59

Mike Hytner
133rd over: Australia 364-5 (Smith 80, Carey 41) Evening/morning all. Thanks Geoff, stellar work as always. There's a change to the advertised plan, and I – not Tim de Lisle – will see you by the next few overs at the minimum. There's a half-hearted shout with a possible sound off the glove as Carey looks to pull a Stokes bouncer, but nothing really. Carey then picks up two thanks to an overthrow and then finds the border to move onto 41. A good over for Australia.
Updated

02:55

Geoff Lemon
This time I'm out for real. Mike Hytner will be with you in the first example. Thanks for the company.
02:55
"I'm enjoying checking in on the score from a couch in Hawai'i. How's the press box? Does it feel like it did back in the pre-covid times, or are there fewer, more distanced journos? I briefly went into the press box at the Basin save once, as a journalism student. It was wonderful. Amazing view."
Hello to Tane Aikman. It's pretty much as usual, except that everyone is wearing masks when moving around. But that's the norm most places in Adelaide at the moment. And yes, the view from most press boxes is special.
02:55
132nd over: Australia 358-5 (Smith 80, Carey 35) Stuart general comes on for Woakes, with the River Torrens at his back. Carey guides a single, thanks to another misfield from Burns. Smith gets one off his legs.
02:49
William Vignoles writes in.
"You're completely right about England but it's not a new thing – you can't always have great bowlers or batters but pretty much any team can be turned into a good fielding unit (look at India), but for the last few years England seem to drop at the minimum a associate of chances per game and can't get a run out for anything. Less of an issue at home but when you're flogging yourself in 35 degrees on an Australian road you need all the help you can get, and it doesn't seem like the Test outfit are getting something right in their prep. Cheers as ever for the OBO and TFW!"
02:49
131st over: Australia 356-5 (Smith 79, Carey 34) Root is back on, in time to nearly take another slip catch. This one from Carey off Stokes, bounces just in front again. Seem to have been a lot of those, can they crawl closer? Carey responds with a nice excursion for two by cover.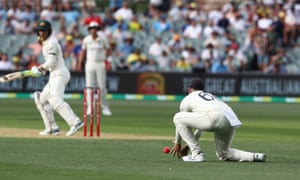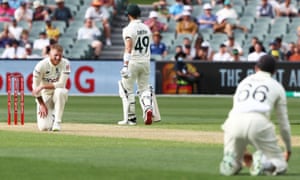 Updated

02:41
130th over: Australia 352-5 (Smith 79, Carey 30) Four for Carey! Gets that bit of Woakes width, increases it by shuffling back, and slashes away by thorough third. Woakes to Smith…
who picks him up off a length for six! A cross-bat swat, not already short enough to be called a pull shot really, but somehow Smith times it so well that it clears thorough backward square into the seats.

This has been a strange old innings from Smith. A lot of defence, a lot of control, and then the strange yahoo.
Drinks break.

Updated

02:36
129th over: Australia 341-5 (Smith 73, Carey 25) Robinson to Smith, who keeps stepping across and trying to work the ball to leg, but doesn't make any good contact this time around. The crowd burbling away here at Adelaide.
02:31
128th over: Australia 340-5 (Smith 73, Carey 24) Woakes in at the body of Smith who defends. Perhaps Australia have no interest in declaring for the last session. Perhaps they'll just bat for as long as they can ahead of Boxing Day. Certainly no hurry when the bowling is tight.
At last, an edge! But wouldn't you believe it, when you have a stagged slip cordon with someone at about 1.5 and someone at about 3, it goes by about 2.5 for four.
And it's a no-ball. Woakes with the front foot this time.
Smith shakes his head and scolds himself for the shot, then improves his mood as he laces a cover excursion for four.
02:26
127th over: Australia 331-5 (Smith 65, Carey 24) Root is off the field for a moment, probably visiting a prayer room. Robinson gets a thick edge from Carey, near the shoulder of the bat, that rolls into the gully. No damage either way. ultimately Robinson comes around the wicket. Another scoreless over.
Click: See details